UNICEF: 1.3 million children live with HIV/AIDS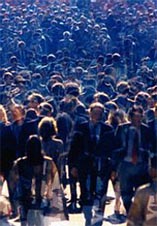 Last Updated: December 13, 2000 18:48:35 EST (Reuters Health)
WESTPORT, CT (Reuters Health) - Of the 36 million people in the world living with HIV/AIDS, 1.4 million are children younger than 15 years, according to the annual report by the United Nations Children's Fund (UNICEF). The report was presented Wednesday at an international media launch in New York City. The vast majority of children with HIV/AIDS acquired the virus from their HIV-infected mothers during birth or breastfeeding, the report states. UNICEF estimates that most of these children will die from the disease before reaching their teenage years. The greatest prevalence of HIV infection and AIDS-related deaths occurs in sub-Saharan Africa, the report notes. Although this region represents only 10% of the world's population, it contains 70% of the world's HIV-infected people, 80% of AIDS deaths, and 90% of AIDS orphans. In fact, in some countries more than 10% of children younger than 15 years are orphans.